Putting in times of warm weather
Summer is in full swing at Owl's Head Golf Club, and the heat has been on for some time now. With the sun beating down on the course from morning to night, there really couldn't be better conditions to play an 18-hole round. In addition to the vacation season underway for many of us, some will be taking the opportunity to tee off several times a week in the hope of improving their performance. The weather has a big impact on how the ball behaves once hit, especially on the green. That's why, in this article, we'll look at putting in hot weather.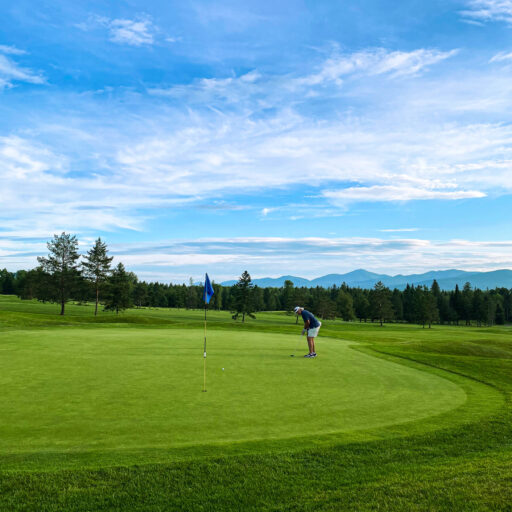 The first thing to keep in mind when practicing a putt is that the speed of the greens varies throughout the day. Often, the first golfers to tee off in the morning will encounter dew on the greens, which will slow the ball down considerably. By lunchtime, the ball will be moving faster as the green has had time to dry. At the end of the day, the turf often regrows a little, which again slows down the ball when hit. It's therefore important to bear in mind the time of day when you take to the green, to ensure a successful shot.
Golfers at Owl's Head find our greens beautiful and, above all, challenging. The advice we give our visitors before they play is to try out the driving range. Ours has several targets at different angles, so you can get a first impression of the greens you'll come across on the course. If you're short on time, it's essential to test the speed of the green by choosing putts from 25 to 30 feet and, even if the direction isn't right, the aim is to stop the ball at the height of the hole.
Finally, body stability will also play a big part in your performance on the green. Unlike other shots on the green, the putt requires very little movement of the thighs and pelvis in order to develop a better sense of size and pendulum versus distance from the target. On this shot, the aim is to create a pendulum-like movement from your shoulders to your club, so that you control the impact force of the shot and avoid sending your ball away from the hole. What's more, if your head tends to follow the head of your putter, the direction of your shot won't be aligned. Make sure you keep your head still until the moment of impact, then take your eyes off the ball and watch it fall into the cup.
Now that you've mastered putting, all you have to do is master these techniques on the course. Take advantage of your free time to get out on the practice greens – you're sure to surprise your opponents in your next round!