Beginning of the season: how to properly prepare yourself
Golf season has begun at Owl's Head and it's time to get in shape for an amazing season! With the coming of warm temperatures and beautiful weather, the golf frenzy is on and your equipment is getting closer to the front door. Like you, we're excited to hit the course for the first time this season, but a few preparations are required to get the season off to a great start and make sure we get the most out of it.
Physical
Physical preparation will have a great impact on your game, especially during your first few outings. Indeed, your muscle memory requires a certain period of adaptation in order to pick up where you left off last season. If you are a newcomer to the sport, or if you only played a few rounds last season, physical preparation is even more important since you need to find your flow first and foremost.
Even if you play your rounds with a cart, golf is still a sport that involves a lot of walking. Before focusing on your swing or technique, getting back into the habit of walking a full 18 holes is crucial to maintaining consistency throughout your round. Remember that the total distance of the golf course is between six (6) and eight (8) kilometers, not counting the load of the bag to be dragged on your shoulders or on your cart. Again, the walk will seem to get easier with each round as your body gets used to the distance. However, if you want to get a head start, walking daily is the way to go. This will allow your body to slowly get used to the distance without burning out on your first outing. Gradually increase the distance of your daily walks to eventually reach a distance similar to that of the field and you will be surprised at how fast your overall performance will be on your next run!
Technique 
Technique is the lifeblood of golf. A golfer with standard physical strength, but impeccable technique will be able to achieve better scores than a player who emphasizes on strength alone. In addition, keeping focus plays an important role and can be shaken more easily if you don't master your technique. Practice makes perfect, so don't hesitate to grab a basket of balls and hit the practice range.
Short game: The short game is where the most points are scored. No matter how good your starting drive is, the accuracy required to finish a hole can slow you down. For this reason, repeating a series of putts on the practice green will familiarize you with your strength, but also with the different angles that can hide the most complex greens on the course. Also, it is a good idea to practice your lob shots at the same time. This will allow you to test different angles depending on where your ball is currently located and where you want it to land.

Full swing: Whether it's your tee shot or an iron, the full swing is the movement that uses the maximum amount of muscle and body twist. The key to success with this type of stroke is to "take it easy" at the beginning of the season. The reason is that good technique is more important than using maximum force in this stroke. Get your body used to the movement by starting with swings that are weak in strength but strong in stability. You will be more confident in your next round, but more importantly, you can begin to gradually add strength to subsequent swings.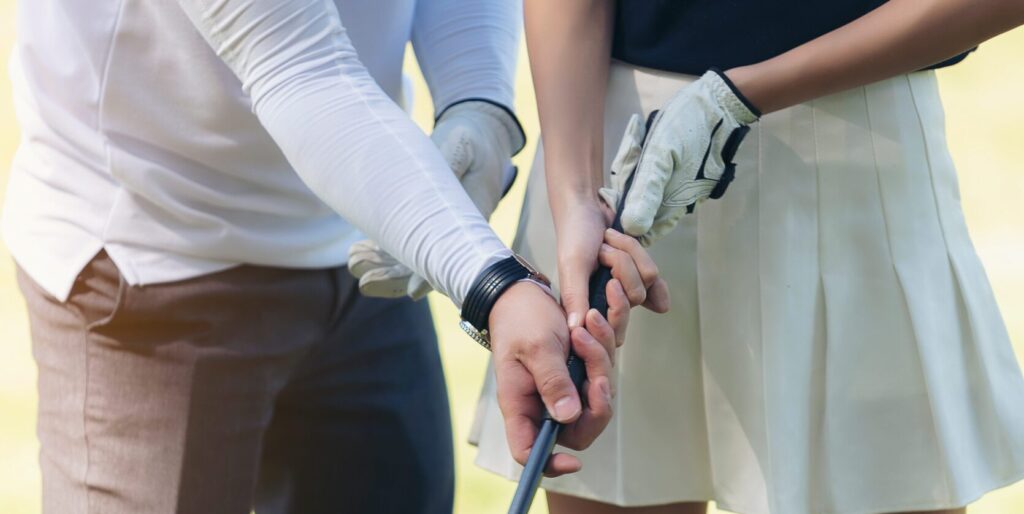 Equipment
Just like your body, your equipment needs to be ready for the season. Depending on where it is stored during the winter season, its age, and its wear and tear, your equipment also needs to be warmed up before its first outing.
First, evaluate the condition of your handles. Over time, they may lose their grip or start to dry out. If this happens, you will be inclined to tighten them too much, which will affect your technique. Perhaps you've already noticed that one of your poles doesn't play as well as it used to? The source of the problem may be the handle. Before you run to the store to replace the club, make sure the handle is in good condition.
Then check the names of your sticks. While everyone has their own set of clubs, each club has its own reason to be in your bag. With every player wanting to improve their game, you can probably add a specific club to your set to reduce your distance to the green or to get out of some tricky jams more easily.
Finally, make sure your bag is in good condition. Nothing breaks the focus and momentum of a round like a zipper that gets caught or scratches graphite rods. Make it easy on yourself by making sure zippers aren't clunky and that they slide well. The base of your bag may also show signs of rot over time. Take a look at it so that it doesn't affect the handles of your sticks.
This is it! You're ready to hit the fairway now. Once again, don't hesitate to take a basket of practice balls to perfect your technique and try to break some of the bad habits you may have when hitting the ball. Don't forget to have as much fun as possible because there is nothing better than a beautiful summer day spent on the most beautiful golf course in the Eastern Townships! We look forward to seeing you on the course.